Although Kelowna is a smaller lakeside city, our residents like big city luxuries just like the next guy! Whether hosting a small dinner party, a special occasion or an extravagant event the luxury kitchen is a great place to be the central hub of the event. Consumers like a fully stocked kitchen with the latest and greatest appliances and gadgets that add real tangible value- even for wealthy buyers who rarely cook.
Brokers recognize that consumer trends towards luxury & commercial-grade appliances within residences are important features in presenting luxury properties: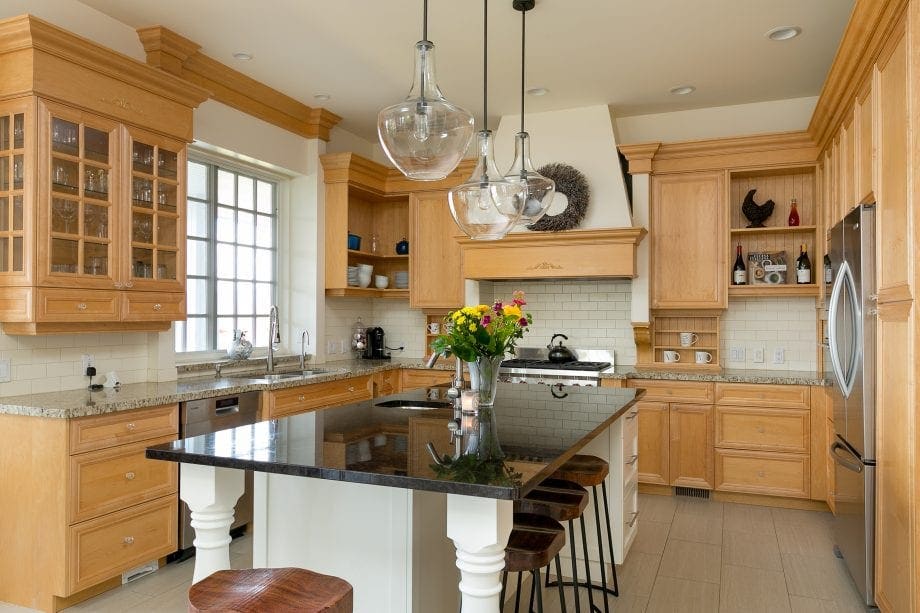 "Often our clients looking for their forever home look for kitchens that are superior in quality with fit and finish. The kitchen sets the stage that the rest of the home will be naturally well done throughout. Consistent finish throughout the home will elevate the home's value", states Dave Domeij.
Popular trending within the luxury market incorporates the kitchen as an organic part of the overall space within the home. The kitchen serves as a place to congregate with friends and family alike around one or even two kitchen islands! Open concept living rooms, kitchens, and outdoor spaces offer blurred transitions between spaces.
The basics in luxury kitchens
Often savvy buyers regardless of whether the kitchen is large or small have certain expectations that the 'GIVENS' are intrinsically incorporated into any kitchen design:
Superior millwork cabinetry equipped incorporating cabinet lighting
Soft closures
Ultra–organizers and design
Vacuum Pans
Walk-in pantries
High end appliances; built-in appliances with wine refrigeration
Generous usage of natural products like stone, granite or marble
2 or more sinks
Added luxuries
Added luxuries can make a statement, contribute to overall design, and create greater ease within the kitchen workspaces. Some additional luxury features that can make your home stand above the crowd include:
Smart home technologies ( control ambient lighting, TV's, appliances, music)
Multiple kitchen islands or shapes
Luxury windows & doors for easy pass thru indoor outdoor entertaining
Multiple appliances (perhaps more than 2 or more dishwashers, refrigerators)
Cabinet refrigeration cabinet drawers or Walk-in Refrigeration Units
Heated floors and countertops- yes countertops- for those cold winter days!
Ice makers/ garburators
Touchless faucets
Warming drawers to keep food hot
Pot fillers above cooking ranges
Wood fire pizza ovens / Fireplaces
Built-in cappuccino-makers
Secondary kitchens (Scullery or Butler Kitchen) – these spaces are located off of the primary kitchen and often feature additional appliances and work spaces perfect for catered events. Such kitchens are separate from and not associated with any potential in-law suite in the home. These secondary kitchens or oversized walk-in pantry's offer additional storage and a place for messy food prep and remain to be unseen by dining guests.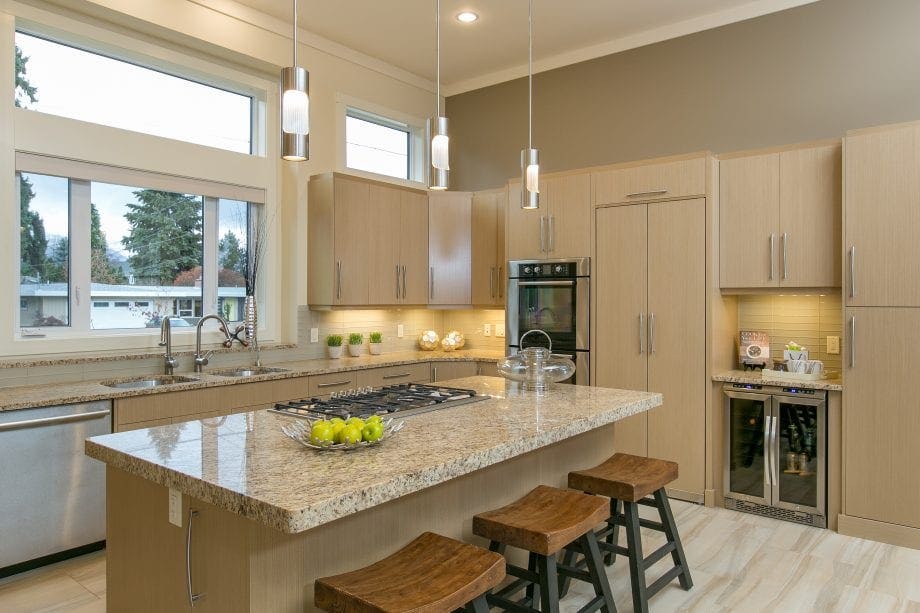 Cabinetry millwork trends come and go but some consistent timeless options remain white or mocha. Kitchens in shades of white are enduring and versatile appearing in cottage, French country, traditional, and even contemporary or post-modern kitchens.
"In some of the mega custom homes the sky is the limit. However, clients connect with styles and color palettes that they will still enjoy down the road over time. We have a great inventory of diverse luxury homes within Kelowna that have some fabulous kitchens that are worth taking a peek at!" says Jason Domeij about popular kitchens.