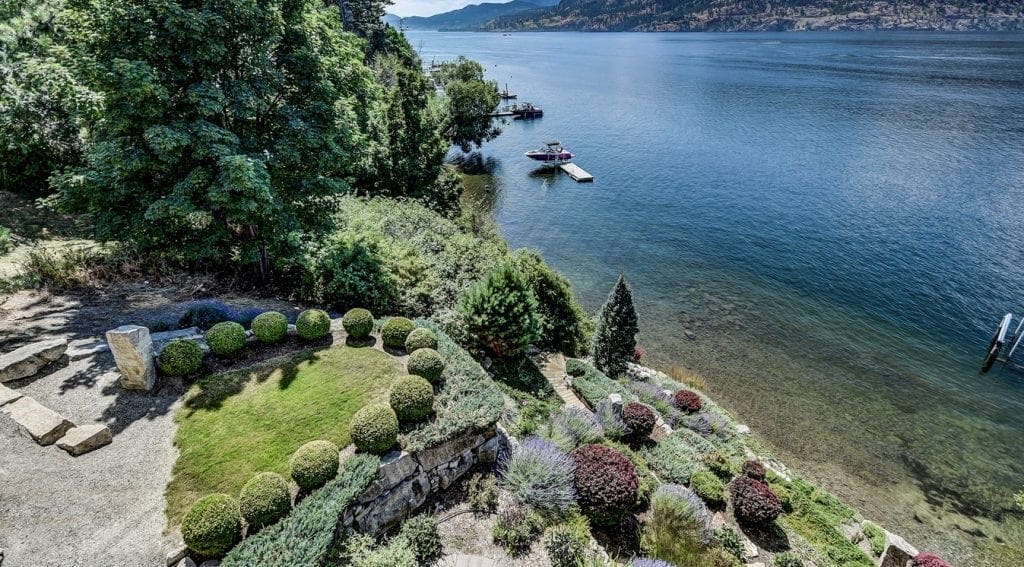 OKANAGAN LUXURY HOMES & GARDENS
Garden's not only soothe the soul but they can also help shore up one of your greatest investments- your home! The landscaping of a Kelowna luxury home whether good or bad can make it stand out in a crowd. When determining the market value of a home landscaping is often taken into account.  Good or bad landscaping will impact your homes market evaluation and affect your property's curb appeal. So…to plant a garden is to believe and "invest" in tomorrow.
LANDSCAPE DESIGN- THE PLAN
Why do you need a plan? A cohesive landscape plan with quality plantings and design adds value for discriminating buyers and personal enjoyment for the home owner. In today's marketplace there are so many products to choose from that can enhance curb appeal and privacy.
OUTDOOR ROOMS
What is an "outdoor room"? A cohesive landscape plan and garden will take into account various products and features to create "outdoor rooms".
 THE FIRST LAYER
For instance often the first layer of landscape design revolves around 'hardscaping'. This refers to design using rock work, pergolas, fencing and privacy screens to create 'outdoor rooms'. Pergolas can provide not only respite from the sun but also can create a high impact architectural feature that anchors a space. Water features can provide that perfect "White Noise" for tranquility and relaxation.
THE SECOND LAYER
Within these dedicated spaces a second layer is added with the addition of landscape lighting, water features, and the use of rare plant or tree species to provide layers of richness and visual impacts of luxury.Extensive landscape design can showcase "outdoor rooms" often with specific micro-climates. For instance one property may have various 'micro-climates'. Perhaps a north eastern facing part of the property include hosta and fern shade plants. On the other hand a portion of the property may have full sun exposure suitable for daylillies or wegelia flowering bushes. Assorted plantings create vignettes within different parts of the property creating outdoor rooms. Xeriscape garden design is becoming increasingly popular in our naturally semi-desert climate valley.
CLASSIC DESIGNS
The perfect balance and combination of landscaping layers can create magical spaces where perennial  gardens co-exist with water features and rare plant species alike. Garden enthusiasts and exclusive buyers alike will appreciate cohesive landscape designs. Classic gardens feature timeless designs that rarely go out of style.
GREEN WITH ENVY
These inspirational gardens offer glimpses of classic landscape designs in some of the Okanagan's finest properties. Enjoy!